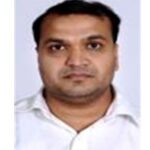 Associate Professor, Physics
Palanpur, Gujarat
Cabin :          (Building No : 8 )
E-mail:  sks@gecpalanpur.ac.in
Nano Materials
Lasers
Nuclear Theory
Engineering Physics 1
Engineering Physics 2
Measurement Techniques
Introduction to Nanotechnology
Physics laboratories 
Using simulation and animations 
User of Synchrotron-Xray facilities, Nd: YAG/other lasers 
Metals, Metal Oxide and Ferrite Nano Materials, synthesis and properties in both theoretical and experimental areas
Neutron resonance parameters
Photoacoustic spectroscopy
Ph.D.in Physics, Govind Ballabh Pant University of A. & T. Pantnagar, Uttarakhand – Year 2003
M.Sc. in Physics, Govind Ballabh Pant University of A. & T. Pantnagar, Uttarakhand – Year 1998
B.Sc. (Physics, Chemistry and Mathematics)Rohilkhand University Bareilly -Year 1995
Associate Professor, Government Engineering College, Palanpur (Gujarat) from 21st October 2022 onwards…
Associate Professor, Lukhdhirji Engineering College, Morbi (Gujarat) from 12th October 2018 to 20th October 2022
Faculty:In various positions in India and abroad from 2003 onwards
Coordinator-NBA -Criteria 8, Student Mentorship, NEP, Research, at LEC Morbi during 2018-22
Co-Coordinator-NBA, IQAC -LEC Morbi (2019-22)
Senior-Supervisor in GTU exam at LEC Morbi (2018-20)
First Year Co-Coordinator at LEC Morbi and DIT Dehradun
Observer in regular and entrance exam of Tech. Edu., UP (2015-16)
Coordinator-TECHFEST, Red Ribbon Club at ICFAI University, Dehradun during 2011-14.
Academic Advisor to B.Tech Students at ICT, Ibra, Muscat (2006-11)
Life Member of Nano and Molecular Society of India
Had been the member of American Physical Society.
Modeling thermodynamic properties of Ni, Sn, Al and Cu nanosolids Madan Singh, Benedict M. Taele , Sekhantso Lara , Sanjay Kumar Singhal and Kamal Devlal, High Temperatures-High Pressures, Vol. 51, pp. 403–DOI: 10.32908/hthp.v51.1263
Jogi, J.K., Singhal, S.K., Jangir, R. et al. Investigation of the Structural and Optical Properties of Zinc Ferrite Nanoparticles Synthesized via a Green Route. J. Electron. Mater. 51, 5482–5491 (2022). https://doi.org/10.1007/s11664-022-09813-2
Session chair in International E- Conference on "Recent Advances in Physics: A promise to Society" conducted by Higher Education Deptt, Govt. of Uttarakhand, during June 24-25, 2020.
S.K. Singhal et al., Impact of ICT on Teaching Learning System-a case study, Indian Journal of Educational Technology (ISSN- 25818325), 2020
Presented paper on 'Development of Higher Order Thinking in School Students through Boot Camp – a case study' at NITTTR Bhopal (Sept, 25-26, 2019)
Santosh Joshi, K. Singhal, Jayant K. Jogi, Photoacoustic Spectroscopy and its application for ferrite samples; Oxides for medical applications,Elsevier, Chapter 26 (coming in Feb, 2023)(IISN/ISBN-609766)
Jayant K. Jogi, K. Singhal, Santosh Joshi, Synthesis of Zinc Ferrite with Diverse Morphology and its applications,Elsevier, Chapter 59 (coming in 2023)in the book 'Ferrite Nanostructured Magnetic Materials'.
Synthesis of ZnO nanostructures and their medical application, Oxides for medical applications, Elsevier, Chapter 7 (Coming March, 2023) ) in the book 'Oxides for medical applications'(IISN/ISBN-609766)
Zirconia and its derivatives and their medical applications,in the book, Elsevier, Chapter1 7 (Coming March, 2023)  'Oxides for medical applications'(IISN/ISBN-609766)
Expert Lectures Delivered
Expert lectures delivered in Virtual Workshop organized by Department of Physics, School of Sciences, Uttarakhand Open University, Haldwani (Nainital) during 13/07/20 and 16/07/2020
Expert Lecture on NEP 2020 in LEC Morbi delivered on 23/03/2021
Established data studio-based Physics Lab by PASCO Scientific and Phywe  at Ibra College of Technology, Muscat during 2009-11.
STTP/SEMINAR/Workshop Organized
Coordinator of SSIP Boot camp conducted at LEC, Morbi during 17/06/2019 to 21/06/2019
Co-coordinator for conducing NEP2020 webinar on 10/08/2021 at LEC Morbi on Use of Technology in Education-NEP2020
Short Term Courses/Seminars/ Workshop Attended
Participated in 'Design of low cost lab experiments for applied sciences'conducted by NITTTR Bhopl during 25/07/2022-29/07/2022
Participated in 'Alternative Sources of Energy' during 19/08/2019-23-08-2019
Additional Achievement and Activities
Guided 1 Ph.D Student of DIT University Dehradun as Co- Supervisor from 2014 to 2018.
Currently guiding  1 Ph.D Student of GTU Ahmedabad as Supervisor from 2019 onwards.