Roles of WDC
To create social awareness to female staff members and girl students in the college about the relevant issues related to women.
To encourage the members to participate in the activities exclusively meant for their development as women.
To organize seminars, workshops for creating general awareness and orientation to students, teachers, non-teaching staff for their active and sustained participation in the activities of the Committee.
To promote general well-being of female students, teaching and non teaching female staff of the institute.
To inculcate social values in them by conducting community service activities.
To organize various types of training programs and create awareness about self-employment & self-defence for the encouragement of self-reliance among women.
Committee
Sr. No.

Name of Member

Designation

Chair person:

1
Prof. R. H. Chaudhary
Assistant Professor Mathematics

Faculty/Staff Members:

1
Prof.F.J.Narsingani
Assistant Professor-Maths
2
Prof.S.G.Chauhan
Assistant Professor-Civil
3
Prof.V.H.Khokhani
Assistant Professor-Civil
4
Prof.U.R.Patel
Assistant Professor-Applied Mechanics
5
Prof. A. K. Patel
Assistant Professor-Mechanical
6
Mrs.N.K.Prajapati
Lab Assistant- Mechanical
7
Ku.K.P.Shah
Lab Assistant- Electrical

Student Members:

1
Prajapati Bharat
4th Mechanical 
2
Anchal Jha
4th Civil
3
Raval Pooja
2th Civil
4
Chaudhary Shailesh
4th Electrical
Girls Common Room
A separate ladies room has been given to girl students situated at first floor, Amenities -block.
This room equipped with the necessary infrastructure like first aid box, cupboards, chairs, tables and cots with mattress.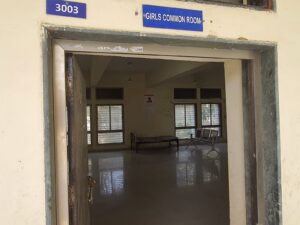 Event at a glance
Internal Complaint Committee (ICC)
Roles of ICC
Provide assistance if an employee or a student chooses to file a complaint with the police;
Provide mechanisms of dispute redressal and dialogue to anticipate and address issues through just and fair conciliation without undermining complainant's rights, and minimize the need for purely punitive approaches that lead to further resentment, alienation or violence;
Protect the safety of the complainant by not divulging the person's identity, and provide the mandatory relief by way of sanctioned leave or relaxation of attendance requirement or transfer to another department or supervisor as required during the pendency of the complaint, or also provide for the transfer of the offender;
Ensure that victims or witnesses are not victimized or discriminated against while dealing with complaints of sexual harassment; and
Ensure prohibition of retaliation or adverse action against a covered individual because the employee or the student is engaged in protected activity.
Committee
The following Internal Complaints Committee is constituted for Prevention, Prohibition and Redressal of Sexual Harassment of Women/Any kind of Grievances at Work Place as per MHRD (AICTE) guideline.
Sr.
No.

Name of Member

Designation

Contact Number

Chairperson:

1

Prof.P.C.Vasani

Professor

9825342208

Faculty Members:

2

Prof.P.N.Boka

Assistant Professor

9724019504

3

Prof.V.K.Patel

Assistant Professor-Mechanical

9426358687

4

Prof. F.J.Narsingani

Assistant Professor-Maths

9879557552

5

Prof R.H.Chaudhary

Assistant Professor-Maths

9925029215

6

Prof.V.H.Khokhani

Assistant Professor-Civil

6355703368

Non-Teaching Members:

7

Mr. A.V.Vaghela

Head Clerk

9725504094

8

Mr. G. M. Patel

Store Keeper

9429307852

9

Ku.K.P.Shah

Lab Assistant-Electrical

9725222992

Student Members:

10

Prajapati Riya

6th Electrical

 

11

Patel Hetal

6th Civil

 

12

Chaudhari Brijal

4th Civil

 
Flow chart