Principal Message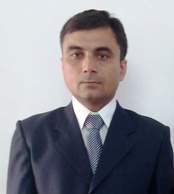 gec-palanpur-dte@gujarat.gov.in
+91-9099063061
              Technical Education contributes towards sustainable development of the nation. As Bharat aims to become knowledge power by 2030, with rapid increase in the quantity of technical students – more focus is required on conceptual clarity, competency, creativity and cognitive skills of graduates. A quality degree level technical education must enable personal accomplishment and enlightenment, constructive public engagement and productive contribution to society. The purpose of quality education is more than the creation of greater opportunities for individual employment. NEP 2020 envisions a complete transformation of higher education to overcome national and global challenges.  The digital skilling program in emerging and future technologies is focussing on skilling, reskilling and upskilling students via internships, apprenticeships and employment to one crore students.
          The institute is constantly focussing on transformation of young human brains into socially responsible professionals for sustainable development. Continuous efforts have been applied by our young and dynamic professors to ensure outcome-based education (OBE). UG Mechanical Engineering program received the status of NBA Accreditation till 2025, is the result of dedicated efforts/involvement of all stake holders towards OBE. The ecosystem to nurture innovation, research and entrepreneurship is in practice with the support of government and institutional initiatives. In year 2021-22 faculty and students published four patents and two proof of concepts in the field of renewable energy and environment. Inline with digital skilling program mandatory internships for all final year engineering students are in practice. Various student clubs are motivating and supporting students for skilling in emerging and future technologies.  Almost all faculties are engaged with various activities/initiative for cumulative professional development and overall development of students and institute at large.
               I on behalf of the institute express heartfelt gratitude to all stakeholders upholding the values embodied in the vision and mission. I ensure you to provide quality technical education to students and transform them into socially responsible, competent professional engineer for their services to the nation. What we all need is dedicated involvement of student in respective program, participation in campus activities, patience, optimism and firm faith in nature. Every student shall spend 40-50 hours/week towards his career building. Our dedicated professors will mentor you for opportunities available for you according to your life goals. We must remain positive and keep our hope alive. You are free to contact the counsellor and if needed you are most welcome to send your questions, queries, problems or suggestions at my official email address.
            Let's learn together and contribute best to the nation "Bharat" !
(Dr. K. B. Judal)
Welcome you all,
I hope you are in good health and spirits!
According to the World Economic Forum Education and Skills, Urbanization, Health, Sanitation, Gender, Water Crisis and Transparency have been the key challenges of India. India may already be the world's third-largest economy on purchasing power parity, but it ranks only 58th out of 148 countries in the World Economic Forum's Global Competitiveness Index, indicating that there is greater potential waiting to be unlocked. Almost a year in the pandemic, the public health situation in many places of the country is more acute than ever. In addition a highly contagious strain of the virus has emerged recently. The total number of new confirmed cases has been reaching new heights almost every day. The numbers of peoples losing their lives are multiples, leaving behind trauma and deep scars in the social fabric of the nation. While the case number has been escalating, several different vaccines have been approved and its distribution in growing number has been enabled by the government. India is aiming for 300 million people to be vaccinated by August this year.
We, at Government Engineering College, Palanpur, are constantly working towards ensuring quality education and promoting Covid appropriate behaviour to defeat this unprecedented pandemic. As the world stays secured behind closed doors during COVID-19 lockdowns and self quarantine, work from home and online classes have become a new norm for us. Use of electronic media and online platforms for delivering online lectures, virtual experiments and online assessment has been part and parcel of our lives. Hundreds of students are getting quality education in online mode regularly to meet the challenges. One of our faculties, Prof. Yogesh Chauhan from Civil Department has been recognized and appreciated by Director Higher Education for "Excellent Performance in Online Education" during COVID-19 pandemic which shows our tremendous effort in imparting quality online education. Almost all faculties are engaged with SSIP projects, research work, virtual seminars and conferences and other faculty development programmes for their professional development and step-towards academic excellence.
I on behalf of all at GEC, Palanpur express heartfelt gratitude to all stakeholders and take a pledge to provide quality education and ensure all round development of our students now and ever. What we all need now is patience, optimism, resilience and firm faith in God Almighty. While we stay home during this extended COVID – 19 partiallockdown, it's a good time to read books and expand your knowledge. We too must rise to meet this formidable challenge bravely and shouldn't let the pandemic pin us down. We must remain positive and keep our hope alive that very soon mankind will be able to find a way out of this difficult situation in near future.As you know, there already exists a student counselling in the college to help students andaddressacademic, psychological and other concerns. You are free to contact thecounsellor and if needed you are most welcome to send your questions, queries, problems or suggestions at my official email address.
All the best! Stay home, stay safe. This too shall pass. God bless!
(Dr. K. B. Judal)
Welcome you all,
The global education development agenda reflected in the Goal 4 (SDG4) of the 2030 Agenda for Sustainable Development, adopted by India in 2015 – seeks to "ensure inclusive and equitable quality education and promote lifelong learning opportunities for all" by 2030. Government Engineering College (GEC), Palanpur thrives to fulfil this thirst with an aim of achieving full student potential and developing equitable and just society and by that promoting national development through its constant efforts and everlasting perseverance. Technological Advancement, climate change, artificial intelligence, need of skill based workforce and techno savvy youth have an increased obligation to transform the traditional educational experience into broader application based experimental practice for lifelong success.
We at GEC, Palanpur are committed to develop not only cognitive capabilities of higher order thinking and problem solving of our students through experimental learning but also social, ethical, and emotional capacities and dispositions through sports, curricular and extracurricular activities every year. Good physical infrastructure and appropriate resources available at our college provide safe and stimulating learning environment. Seamless integration and coordination of all departments and resourceful and well qualified faculty members provide environment conducive to learning for all students at all educational stages. Along with engineering professional courses, we offer multidisciplinary courses such as humanities, social science, pure and applied science, ethics, life skills and languageso as to ensure holistic development of our students and endeavour to mould them into responsible Indian citizens.  The instituteimplemented 'light but tight' regulatory framework from 2019-20 to ensure quality education and discipline through progressive assessment and regular monitoring of students' progress and classroom attendance. Our young minds nurture 'out of the box' thinking and promote student innovations and entrepreneurship through establishment of Design Lab and successful implementation of Students Start up and Innovation Policy.  Outstanding research is core prerequisite of any outstanding teacher. "Research Promotion under Technical Education" scheme is motivatingthe faculties in addition to ample infrastructure and time to carryout extensive research for their professional development.
I on behalf of all at GEC, Palanpur express heartfelt gratitude to all stakeholders and take a pledge to provide quality education and ensure all round development of our employee and students now and ever. Let's join our hands in transforming our youth into responsible Indian citizen.
(Dr. K. B. Judal)
Establishment Office
Account Section
Central Store
Minutes of Meetings
Former Principals
| | | |
| --- | --- | --- |
| Name | Duration | Designation |
| Dr. J.A.Vadher | 04/02/2016 to 31/03/2017 | Incharge Principal |
| Prof. S.A.Trivedi | 01/11/2013 to 03/02/2016 | Incharge Principal |
| Prof. D.H.Thakkar | 01/10/2012 to 31/10/2013 | Incharge Principal |
| Prof. S.D.Dabhi | 01/07/2010 to 30/09/2012 | Incharge Principal |
| Prof. N.M.Santoki | 30/06/2009 to 30/06/2010 | Incharge Principal |