INNOVATIONS @ GEC PALANPUR
Faculty Research
Paper Publications: More than 40 Research Papers published
PhD Guided: 05
PhD Pursuing: 09
Faculty Patent
Three patent published by the faculties.
Innovative Practice
Teaching with Physical Experience for Enhancing skill and awareness of Safety as well as Industrial Environment in workshop laboratory done under the guidance of Dr.J.A.Vadher. 
_____________
"Engine Assembly workshop" arranged for 6 th mechanical student under the subject I. C. Engine (2161902) on 28/02/2020.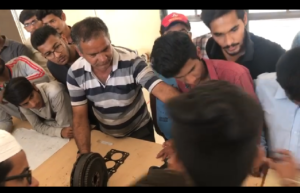 Student Projects