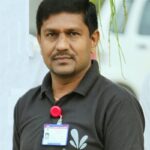 Assistant Professor, Mechanical Engineering
Palanpur, Gujarat
Cabin :  5011 (Building No : 5 )
E-mail:  adp@gecpalanpur.ac.in
Engineering Graphics & Design
I.C. Engine
Design of Machine Elements
Advanced Machine Design
Automobile Engineering
Leadership and management skills

Good subjective knowledge
Innovative novel design
Weld joint design
Pursuing Ph. D.in Mechanical Engineering, GTU
M.E. in Mechanical Engineering with Specialization in Machine Design, B. V. M. College of engineering, V. V. Nagar, Anand, Gujarat (S. P. University), Year 2009
B. E. Mechanical Engineering from L.D. College of Engineering, Ahmedabad, Gujarat (Gujarat University), the Year 2003.
Assistant Professor, Government Engineering College, Palanpur, Gujarat, from 21, April, 2011 to continue…
Lecturer, SVIT, Vasad, Dist. Anand, Gujarat, from 1, July 2007 – 20, April 2011
AD Hoc Lecturer, SVIT, Vasad, Dist. Anand, Gujarat, 2, August, 2006 to 31, August, 2006
Visiting Lecturer, B.V.M. Engg. College, V. V. Nagar, Anand, Gujarat, from 10, Jan, 2005 to 1, August, 2005
Visiting Lecturer, Govt. Engg. College Bhuj-Kutch, Gujarat, from 21, July, 2004 to 6, Nov, 2004
Institute NBA team member (Worked)

Convener, First year coordination
Convener, Institute Induction Program Cell (IIPC)

Convener, Student Welfare (Worked)

Technical member, Institute management committee, ITI, Vav
Training and placement cell, III, MOU, Finishing school 
The Institute of Engineers of India (IEI) Membership Number: M-1675111
Paper Title: "REVIEW OF TECHNIQUES FOR MEMS DEVICE PROCESSING" Paper ID: "IJESF16V02I0154412″Published in IJESFT, Volume 02 Issue 01, January-2016 ISSN: 2454-1338 (online), ISSN: 2454-1125 (Print)
Ashvin D. Patel, Dr. Pratik H. Shah, "Innovative Multicutter Groove Cutting Machine For Development of a Novel Cruci- Trap Joint", STD, vol. X, no. V, pp. 515–527, 2021. (UGC Approved Journal)
A. D. Patel, Dr. P. H. Shah, "A Review of fatigue life assessment methods for load-carrying cruciform welded joints", International conference on research and innovations in science, engineering and technology, ICRISET-2020, 2020.
Expert Lectures Delivered
Developed I. C.-Auto. Laboratory equipped with required equipment and models
Designed new Practicals for I. C.-Auto. Laboratory
Name of Project: Swatch Bharat Abhiyan Reverse Vending Machine
STTP/SEMINAR/Workshop Organized
Short Term Courses/Seminars/ Workshop Attended
Title of Training

Start date

End date

Venue

Induction Phase-I

15/4/2013

24/4/2013

NITTTR Extension Centre, RCTI, A'bad

STTP on Recent Trends in Automobile Engineering

13/5/2013

18/5/2013

LDCE, A'bad

Karma yogi Residential Training

6/2/14

8/2/14

Swaminarayan mandir, G'nagar

Induction Phase-II

2/2/15

13/2/2015

NITTTR Extension Centre, RCTI, A'bad

Development of lab manual and project work in mechanical engineering and allied programs

15/6/2015

19/6/2015

NITTTR Extension Centre, RCTI, A'bad

Multi Media Development (Coral Draw & Photoshop)

20/6/16

24/6/16

NITTTR Extension Centre, RCTI, A'bad

Recent Trends in Automation & Control

24/10/16

28/10/16

GEC, PATAN

Resource Management for Manufacturing Sector

3/7/17

14/7/17

NITTTR, Bhopal

3 days FDP for student induction program

7/6/18

9/6/18

Ganpat University, Kherva

7 days FDP for student induction program

30/6/18

6/7/18

GTU, Ahmedabad

Beyond the Classroom Towards Excellence

17/1/20

23/1/20

IITE, Gandhinagar

Academic Research paper writing

9/3/20

13/3/20

NITTTR Extension center
Ahmedabad

Inculcating Universal Human Values in Technical Education

26/4/20

30/4/20

AICTE
(online)

WORK ETHICS  MOTIVATIONAL CLIMATE AND ATTITUDE DEVELOPMENT

1/6/20

5/6/20

NITTTR, Bhopal
(Online)

COMPREHENSIVE ONLINE INTELLECTUAL PROPERTY RIGHTS (IPR)

6/7/20

14/9/20

Gujarat Student Startup and Innovation Hub (i-Hub)

 ADVANCES IN MANUFACTURING (AIM 2.0)

5/10/20

9/10/20

SVNIT, Surat
(Online)

online UHV Refresher 1 FDP

23/11/20

27/11/20

AICTE
(online)

Fundamental of Welding Science and Technology

Jan

March 2021

NPTEL
(Mooc)

Assessment and Utilization of Renewable Energy
Resources

13-9-21

17-9-21

GEC, Palanpur
(Online)
Additional Achievements and Activities
Patent:
Patel Ashvinkumar Dahyabhai, Shah Pratik H., "MULTICUTTER GROOVE CUTTING MACHINE (MGCM)" 202121012147, Applied on 22/3/21, Published on 26/3/2021
Patel Ashvinkumar Dahyabhai, Shah Pratik Harshadbhai, "Two-Piece Plus Type Cruci-Trap Welded Joint (CTWJ)", 202121022448,Applied on 19/5/21, Published on 25/6/2021