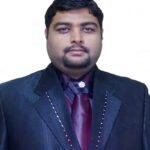 Assistant Professor, Civil Engineering
Palanpur, Gujarat
Cabin : 7114 First Floor (Building No : 7 )
E-mail:  rkr@gecpalanpur.ac.in
Surveying
Water Resources Management
Hydrology & Water Resources
Basic Civil Engineering
Environmental Science
Surveying
Advanced Surveying
Hydrology & Water Resources
Irrigation Engineering
Dock, Harbour Engineering
Indian Constitution
Surveying & Leveling
Planning & Designing
Auto CAD, Sketchup
Hydrological Modelling
Hydrology & Water Resources
Water Resources Management
M.E. in Civil Engineering with specialization in Water Resources Management, L. D. College of Engineering, Ahmedabad (Gujarat) (Gujarat University) Year 2010
B.E. Civil, L. D. College of Engineering, Ahmedabad (Gujarat) (Gujarat University) Year 2006
Visiting Lecturer, L. D. College of Engineering, Ahmedabad (Gujarat) from 1/8/2007 to 30/11/2007
Junior Engineering, WAPCOS Pvt. Ltd., Ahmedabad (Gujarat) from 1/2/2008 to 31/8/2008
Adhoc Lecturer, Sarvoday Polytechnic Institute, Limbdi (Gujarat) 15/9/2008 to 31/7/2009
Lecturer, Sardar Patel Institute of Technology, Piludara, Mehsana (Gujarat) from 20/8/2009 to 20/8/2010
Assistant Professor, Sardar Patel Institute of Technology, Piludara, Mehsana (Gujarat) from 21/8/2010 to 31/8/2011
Assistant Professor, Hansaba College of Engineering and Technology, Sidhpur (Gujarat) from 2/9/2011 to 16/7/2014
Assistant Professor (Contract Basis), Government Engineering College, Palanpur (Gujarat) from 21/10/2014 to Till date
Assisting Member of Student Session, Scholarship, Student feedback & Result Analysis, GEC Palanpur (Febuary-2015 to June-2016)
Assisting Member of Navi Baabat, GEC Palanpur (Febuary-2015 to June-2016)
Assisting Member of Time Table/ Term Work, GEC Palanpur (Febuary-2015 to June-2016)
Assisting Member of Library, GEC Palanpur (Febuary-2015 to June-2016)
Assisting Member of AICTE & GTU Affiliation, GEC Palanpur (Febuary-2015 to June-2016)
Assisting Member of Training Placement, GEC Palanpur (Febuary-2015 to June-2016)
Assisting Member of Civil Maintenance, GEC Palanpur (Febuary-2015 to June-2016)
Assisting Member of Computer & Internet, GEC Palanpur (Febuary-2015 to June-2016)
Assisting Member of Gardening, GEC Palanpur (Febuary-2015 to June-2016)
Assisting Member of Student Section, GEC Palanpur (July-2016 to April-2017)
Assisting Member of Time Table, GEC Palanpur (July-2016 to April-2017)
Assisting Member of Library, GEC Palanpur (July-2016 to April-2017)
Assisting Member of ACPC, GEC Palanpur (July-2016 to April-2017)
Assisting Member of Training & Placement, GEC Palanpur (July-2016 to April-2017)
Assisting Member of NSS activity/Gardening, GEC Palanpur (July-2016 to April-2017)
Assisting Member of Institute Time Table, Overload, Bridge Course, Student Attendance, NSS, GEC Palanpur (May-2017 to October-2018)
Assisting Member of Event Photography, Maintaining record, Minutes of Meeting, Medial & Press, GEC Palanpur (May-2017 to October-2018)
Member of Institute Time Table, GEC Palanpur (November-2018 to June-2019)
Member of  AICTE, GTU Affiliation, AISHE/NIRF, GEC Palanpur (November-2018 to June-2019)
Member of  GTU IDP/UDP, CIC3, Startup Innovation and Design School, Virtual Lab, GEC Palanpur (November-2018 to June-2019)
Member of Institute Time Table, GEC Palanpur (July-2019 to December-2020)
Member of  AICTE, GTU Affiliation, AISHE/NIRF, GEC Palanpur (July-2019 to December-2020)
Member of  SSIP Cell, GTU IDP/UDP, CIC3, Virtual Lab, GEC Palanpur (July-2019 to December-2020)
Member of Institute Time Table coordination, GEC Palanpur (January-2021 to December-2022)
Member of  SSIP Cell, GTU IDP/UDP, CIC3, Virtual Lab, GEC Palanpur (January-2021 to December-2022)
Member of  Media Coordinator/Branding, GEC Palanpur (January-2021 to December-2022)
IDP/UDP, CIC3, Virtual Lab, GEC Palanpur (January-2021 to December-2022)
Member of Institute Time Table coordination, GEC Palanpur (January-2023 to till date)
Member of  SSIP Cell, GTU IDP/UDP, CIC3, Virtual Lab, GEC Palanpur (January-2023 to till date)
Member of  Media Coordinator/Branding, GEC Palanpur (January-2023 to till date)
Member of  Library, GEC Palanpur (January-2023 to till date)
Life Member      : ISTE Faculty Life Membership – LM89219
Sustainable Management and Conservation of Water Resources (SMCWR-2010) organized by (RTU) Rajasthan Technological University, Kota on Simulation of river Sabarmati: A case study of Evapotranspiration and Sedimentation on 12-13 March'2010
Emerging Trends in Engineering, Technology & Management (NCEETM-2015) organized by Indus University on Effect of Landuse/Land cover on Surface Runoff: A Research Proposal on 15th March 2015.
Expert Lectures Delivered
Under SSIP, Delivered Expert Lecture on Awareness and Sensitization Program, Gokul Global University, Hansaba College of Engineering and Technology, Sidhpur, Patan, Date: 18-07-2019
Under NEP, Delivered Expert lecture on Skill Entrepreneurship and Development and Employability – Challenges & Opportunities, Government Engineering College, Palanpur Date 10/8/2021
Under SSIP, Delivered Expert Lecture on SSIP Sensitization program for Semester V students on 23rd July 2021.
STTP/SEMINAR/Workshop Organized
Coordinator of Webinar on Develope Entrepreneurial Mindset and Accelerating Innovation by Mr. Nirav Patel Project coordinator, SSIP Cell.
Short Term Courses/Seminars/ Workshop Attended
| | | | |
| --- | --- | --- | --- |
| Sr. No. | Name of Training/Course Title | Venue/ Institute of Training | Duration |
| 1 | Faculty Development Program on "Student Innovation and Start-up ecosystem development at academia | EDII, Bhat, Gandhinagar | 6th January 2020 to 10th January 2020 |
Additional Achievement and Activities